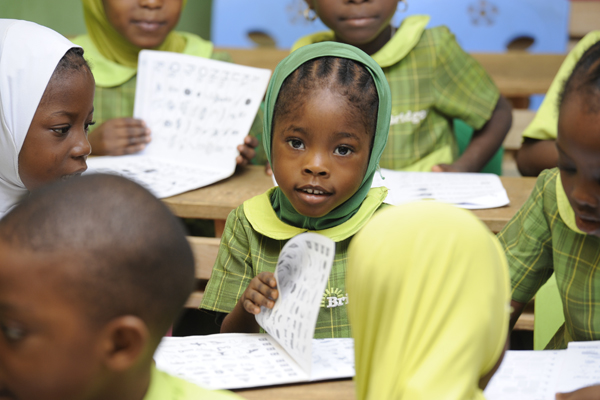 Questions
Why doesn't Bridge leave national governments to deliver education?
Many developing economies and their governments, whilst making real endeavours to invest in education, have millions of children who are not in school, and if they are in school, are often not learning. The Education Commission estimates there are 263 million children and young people not in school and a further 330 million in school but not learning. Plus, UNESCO states that an extra 63 million teachers are needed to achieve the UN education goals for 2030.There is a real need that must be addressed urgently.
We believe there should be truly great, truly free public schools. However, in reality this is far from being the case so we help deal with the huge education imbalance between what is available and what is needed.
By demonstrating that high-performing schools are possible even on a developing country's limited budget, Bridge has empowered governments and others to make informed decisions on how to improve learning. Far from acting separately to government or taking government "off the hook", Bridge is an education partner in many countries, helping governments to fill the school shortages and improve learning outcomes.

If Bridge is mission driven, why isn't it set up as a charity?
Bridge is structured so that it is both scalable and sustainable. The crisis in education is so great that reform and innovation are needed to deliver on a global scale. Sadly, many NGO's and charities simply don't have the investment or technological capacity to run schools or deliver education at scale. Being structured as a company has enabled Bridge to bring over USD $100m of new investment into education in some of the most underserved parts of the world.
Our structure allows Bridge to attract investors that governments and NGO's would not be able to access, and use data and evidence enabled by innovative technology to ensure learning gains. Bridge believes investment capital deployed on one of the world's most pressing problems – educating and empowering generations of children to build a prosperous future for us all – is a positive force in development.

Are affordable schools necessary, why not just invest in public schools?
Bridge does invest in public schools through Public Private Partnership (PPP) models such as in Liberia.
Supporting reform in public education systems is vital but often such reform moves slowly. Education is in crisis now, and models that can deliver urgent and effective reform immediately need to be embraced to prevent generations of children missing out.Affordable schools are acknowledged as an essential part of the education eco system. The World Bank, The UN and The Education Commission, amongst other global institutions, have stated that Public Private Partnerships (PPP's) are integral to the delivery of the Sustainable Development Goal's (SDG's) and in particular, SDG4.
UNESCO says that it has played a catalytic role in developing an avenue for public private partnerships to help meet the needs of the countries least likely to achieve education for all. Affordable schools are part of a mixed economy model that will enable the delivery of SDG4.
By demonstrating that high-performing schools are possible even on a developing country's limited budget, Bridge has empowered governments and others to make informed decisions on how to improve learning and therefore spur change, it's a reforming cycle.

Is there any independent evidence Bridge schools are good?
Yes, there is an increasing body of evidence. There are independent national exams, the Kenya Certificate of Primary Education (KCPE), plus studies conducted by third parties that all demonstrate the high performance and learning gains of children in Bridge schools. In fact, the evidence shows that the longer a child is in a Bridge school, the better their academic performance.
In the 2016 KCPE results, after two years studying at Bridge in Kenya, pupils passed the national exam at a 59% rate, 15 points above the public rate of 44%. This was the second year in a row that Bridge pupils outperformed their peers, in 2015 pupils scored 60% compared to a national average of 44%. For those who studied at Bridge for at least 4 years, the pass rate was 74%. As such, many Bridge pupils have won places at top secondary schools in Kenya and some have won scholarships to prestigious USA schools.
In 2014, independently administered EGRA and the EGMA assessments conducted in Kenya show that for reading in the early grades, the gains from attending Bridge were equivalent to 64 more days of learning in a single year. For mathematics, the gains from attending Bridge were equivalent to 26 more days of learning in a single school year.
In 2017 we have the first cohort of pupils sitting the Primary Leaving Exam in Uganda.
We are shortly to release a midline report in Liberia, evidencing learning gains achieved in just 4 months. There are two current RCT assessments of Bridge pupils, one with Harvard and one with the Centre for Global Development and the University of California – just around the corner.
In Nigeria, the UK Department for International Development has commissioned a quasi-experimental study with EDOREN.
It is important to note that Bridge has only been operating schools since 2009 and it can take time for new models to take effect and produce data evidencing learning outcomes.

Are Bridge teachers qualified?
Each country in which Bridge operates has different qualifications and requirements for teachers and Bridge adheres to the rules and regulations in each country.
All Bridge teachers are trained to teach and are well supported throughout their careers. Our teachers are professionally trained at the Bridge International Training Institute and supported with continuous professional development programmes both inside and outside the classroom. The training prepares teachers to lead interactive lessons, lead small group and 1:1 instruction, and use a variety of effective teaching techniques.
A recent World Bank report indicated the average teacher absentee rate in Ugandan schools was 56%, and in Kenya 47%, while in Bridge the rate is about 1%. All Bridge teachers follow the national curriculum of the country they are teaching in.

How can Bridge claim to reach the poorest when the poorest cannot pay?
Bridge runs schools in marginalised and underserved communities and it is designed to ensure that we are able to reach the poorest. Bridge's low fees mean that the vast majority (in Kenya over 90%) of the people near our schools can choose to send their children to Bridge.
The global average fee for Bridge is just under $7 USD per month per child. In countries such as Liberia, where Bridge is part of Government Public Private Partnership, parents don't pay fees.
Of course, despite the very low fees there will always be those who struggle. As such Bridge runs an extensive scholarship programme. The poorest 10% of our pupils are on full scholarships and attend Bridge for free.
Parents have the right to choose whether or not to send their children to Bridge and decide for themselves whether they wish to invest in education.
It is important to note that many public schools in the countries in which Bridge operates charge fees, this includes admissions fees, or teachers charging direct fees such a 'motivation fees'. This means that attending even a 'free' public school can have an effectively high cost of enrolment and learning for a parent.

Are all Bridge academy buildings safe?
Yes, all Bridge buildings are safe and meet local standards and legal requirements. Bridge believes that school performance should be measured out outputs not inputs. We don't focus on the aesthetic appearance of our schools, but rather the teaching that is happening in our classrooms and the learning gains being achieved by our pupils. Keeping our builds basic also helps to keep costs low for parents.
Bridge welcomes innovative partnerships and donors to improve infrastructure beyond what the local community can support.

Does Bridge teach the national curriculum of individual countries?
Yes. In every Bridge school we only teach the national curriculum of the host country.

Why does Bridge use teacher guides?
Bridge is focussed on using the most effective and proven methods to deliver learning gains. It follows the evidence in making decisions and teacher guides (or scripted education) is widely recognized as an effective delivery method of instruction in numerous academic studies, including Hattie, 2009; Lemov, Woolway and Yezzi, 2012; and Killian 2014. As such, is used across the world by multi lateral agencies.
Because of its success, it is a cornerstone of USAID early grade literacy programs in Africa, such as Tusome in Kenya, and is utilized as an effective form of educational delivery. It is particularly effective in developing countries where even teachers from certified training programs struggle with core knowledge competencies. In Uganda, for example, eight out of ten state primary school teachers, can neither read nor solve basic primary-level mathematics questions.
Teachers guides empower teachers with lessons that have been tested to ensure student comprehension, which means better prepared teachers – who can focus on teaching – and more learning for the children who need it most.

Does Bridge make a profit from poor communities?
No. Bridge has not made a profit. It is a highly leveraged, long term investment model. All of Bridge's partners and investors are committed to tackling the global education crisis in a sustainable and scalable way.