Reaching beyond to study in a prestigious US university
16 November 2020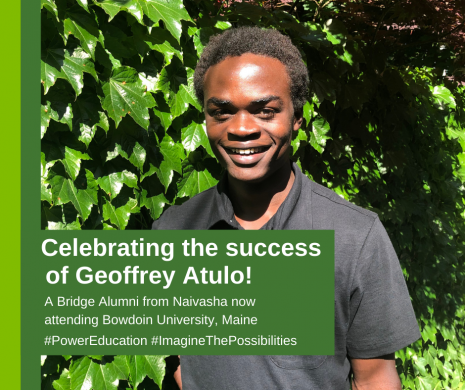 In a milestone moment, Geoffrey Atulo, a boy from an impoverished community in Western Kenya is now competing with his peers as a student at Bowdoin University in Maine, USA.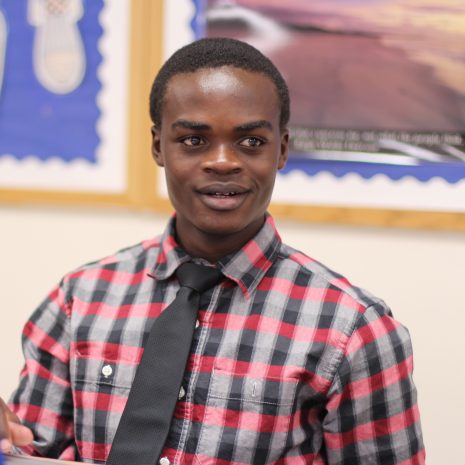 Geoffrey Atulo grew up in a rural village in Mumias, Western Kenya. He lived with his grandmother and daily life was a struggle. He attended a local school for two years when he was young, but it was pointless endeavour. He was barely learning as there were so many children in the classroom that some sat on the floor, and there were no learning materials. Often he would walk to an empty stomach and find that the teacher had decided not to attend that day. Looking back he says:
"It was terrible for me. There were frequent teacher strikes and very few learning materials. My grandmother had not enough money to feed me or buy me books, and I was always hungry. Often I stayed at home to do chores around the house. Geoffrey's family circumstances mirror the situation of many children from poor communities across Kenya, who face a myriad of challenges. The belief that all children are capable of success if given access to a good school, supportive teachers and the opportunity to do well is not widely held. Reflecting Geoffrey just says: "That's how it was."
He didn't think there was anything unusual in his situation, all his friends and schoolmates were in the same positions and many stopped attending school permanently because they could earn money by going to work and help to support their families.
One day, his uncle arrived in Mumias and decided to take Geoffrey with him to Naivasha. This was the start of a new chapter in his life and looking back, it's his uncle's decision that marked a fork in the road. On arriving in Naivasha, his uncle enrolled him in a Bridge school, Karagita academy; after having it recommended by his neighbours. The school offered a different type of education to the one he's experienced so far and turned out to be a turning point. The education that Geoffrey received at Bridge would change his life completely.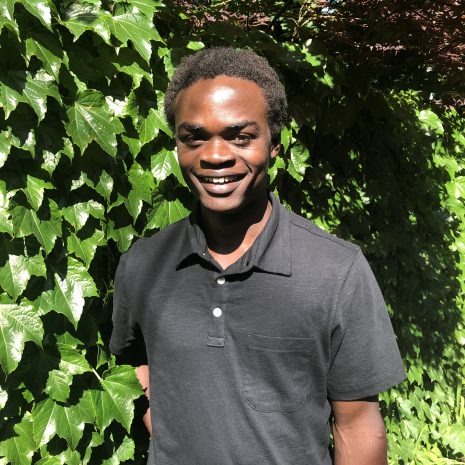 Talking about that time in his life he says "I remember it vividly, after I was admitted to the school, the first day I took an interview exam to assess my level and gauge the depth of my knowledge." It was new to Geoffrey who was used to simply going into class with his age mates, learning level had not mattered previously. Geoffrey says: "I didn't do quite well in maths. I got 30%, which was terrible! But after a relatively short period, I started to improve, I started feeling the impact of how they taught at the school.
"Teachers cared and the way they taught was exciting and fun. At Bridge, if they teach you something, they check you have understood. They made it practical, not just conceptual. I started improving in mathematics and other subjects," says Geoffrey.
Geoffrey turned out to be a good student; he wanted to do well and with the support of his Uncle and his teachers he believed that he could. In no time at all, Geoffrey was in his final year at primary school and preparing to sit the national primary school exit exam – Kenyan Certificate of Primary Education (KCPE). In 2015, he sat the exam and excelled as one of the top performers in the entire country scoring 401 out of 500. Several years previously Geoffrey had assumed he would drop out of school and go to work; finding himself not only finishing but finishing as one of the best, was a remarkable achievement.
Geoffrey had the education bug and could see a different future for himself. He wanted to go to secondary school, but never dreamt he'd leave Kenya to do so. Thanks to his exceptional performance in the KCPE his teachers suggested that he apply for a US scholarship and his Uncle firmly agreed. After applying he was astounded to win a four year scholarship to study at St. Andrews School in Florida, USA.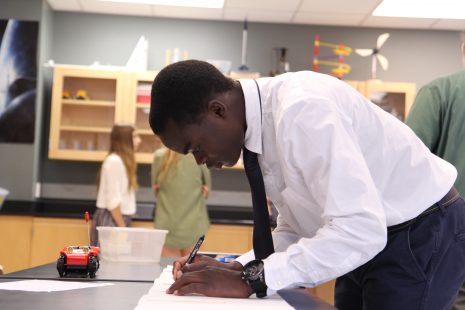 Throughout high school, Geofrey worked hard. He says:
"The opportunity must be from God. It was so important to me and family, they are so proud and we can all see a different future is possible. I remember when I used to walk a long way to school and was hungry. The future changed and sometimes I do not believe what my life was." 
Geoffrey graduated from St Andrews just as the pandemic was starting. He had thought about what would happen after he graduated and knew that he wanted to go to keep going with his education but didn't know whether it would be possible. He had support from his teachers and from Bridge and started applying for Universities both in the US and Kenya. He still remembers the day he heard that he had been awarded a scholarship to Bowdoin University in Maine: 'It was amazing, I was flying so high." Getting accepted into a renowned university like Bowdoin had seemed like an unattainable dream to Geoffrey. He says;
"I have thought about it. If I hadn't gone to Bridge, I wouldn't be the person I am today. I couldn't have had the hope of passing the KCPE exams because I wasn't learning. At Bridge, that joy in being a learner was quite new and intriguing. I remember back then I would say I had a dream of becoming a doctor. My cousins would say ' boy, you're going to be a doctor and scoff, because my education was not that sharp. I would wonder why they were laughing at the idea. But things have changed, now I am pursuing medicine and no one is laughing at the idea."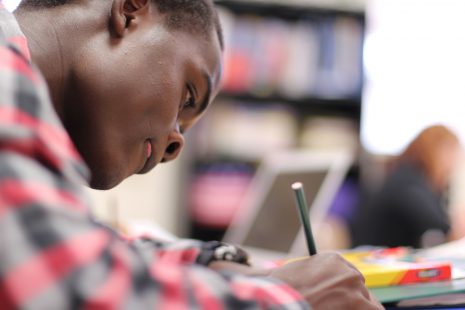 Geoffrey is finally living his dream and now wants to become a doctor in the field of medical research. It is a field that fascinates him. With the classes that he is taking now, he believes that he is on the right track. He is focussed on Bowdoin and the opportunities that it offers him; but he is always thinking of what next, what is the next goal. He says that
"After college, I want to go to a graduate school and continue pursuing my dream, and help make the world a better place. Given the context of the pandemic right now, I believe that the world needs the kind of individuals who can help keep future pandemics at bay," says a confident Geoffrey.
Looking back at his journey to Bowdoin, Geoffrey has mixed feelings.
"My journey here has not been easy and at St Andrews no one really understood where I came from, what my home and my community is like. It was a different world. Being in the US has exposed me to a lot of world views. It has taught me how to be open minded about things, and I have learned how to learn, and I am still learning. Learning is a process," says Geoffrey.

"The sad thing is that I know I am lucky. There are millions of children in Kenya who have dreams like me, who have my abilities and my determination but they don't have the opportunity. I think about Mumias often and I know that children are still in overcrowded schools without learning materials, the same schools that I started my journey in."
Geoffrey has worked hard to achieve his place at Bowdoin and his success. He is an incredible boy, who has had a unique journey. However, there are millions of boys in Kenya and across Africa who would be able to compete in a US university if they had been given the tools to help them get there. If they had the chance to go to a good school, where they could really learn who knows what they could achieve, what their paths would be, the change that they could bring to their communities and their countries.