Back to school: the importance of equity in education and the benefits this has on both the individual and their community
Bridge Community Schools provide quality education for children in underserved communities, supporting over one million children worldwide. Bridge transforms futures and achieves academic excellence, enhancing literacy and numeracy skills through world-class technology that enables quality lessons, specifically designed to maximize learning outcomes.

The evidence that shows that education is essential to the future success of children is overwhelming. Bridge Community Schools build pathways that accelerate learning for children, enabling them to achieve bright and prosperous futures. 
Bridge learning techniques have been proven to have profound outcomes on the social behaviours of pupils, strengthening and building strong communication and language skills.

Mr. Sebastian, a parent of a pupil at one of our Bridge Nigeria schools in Lagos state said: Pwaakadi could not communicate effectively in English before she came to Lagos, even though she understands it. Now, her numeracy and literacy skills have really improved. She reads all by herself and does her homework herself. All thanks to Bridge teaching techniques.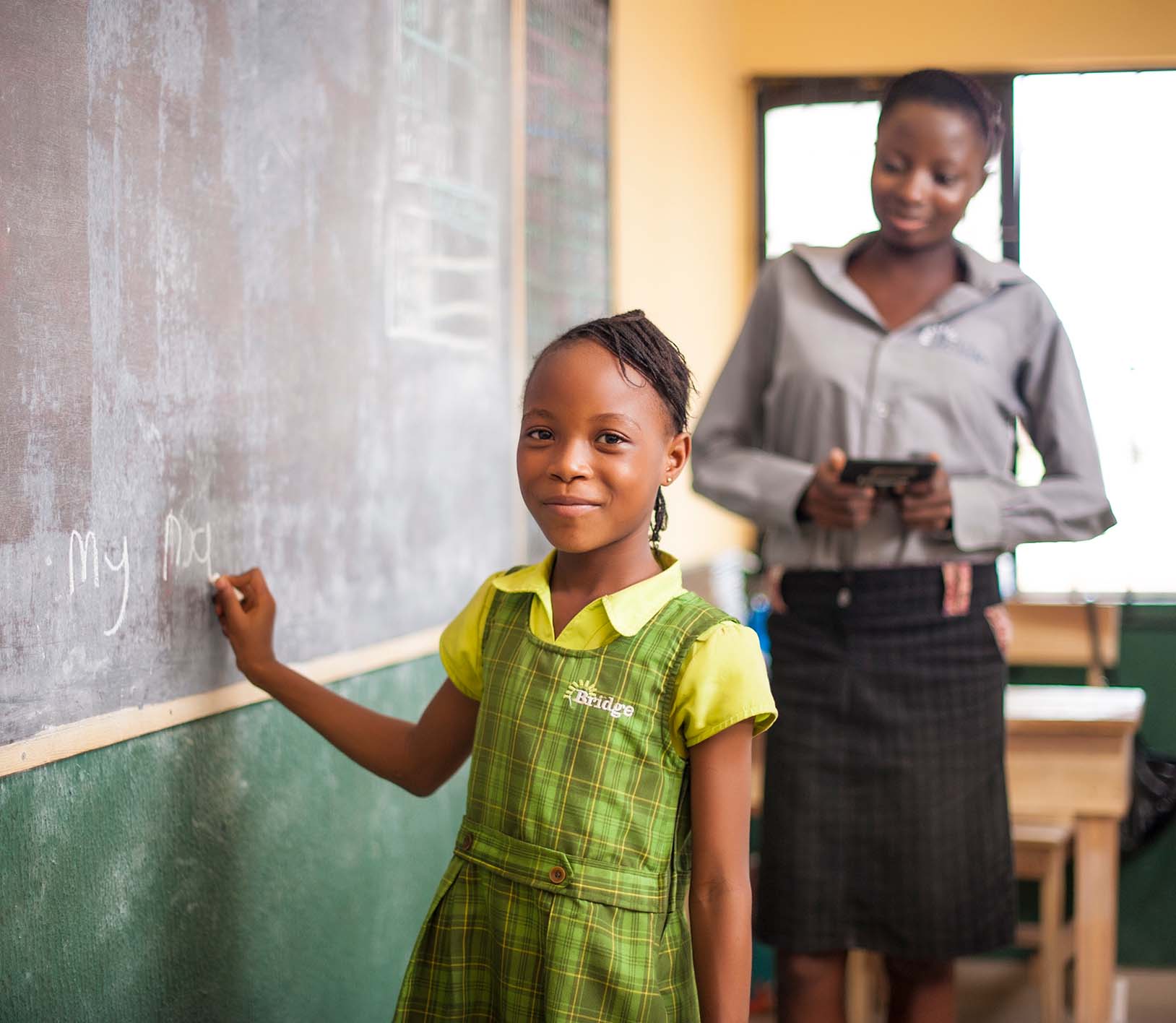 It is feedback like this which highlights the positive impact attending Bridge has on all its pupils, regardless of their previous education or background. Every child learns at Bridge. 
Bridge's quality education helps transform futures by leveraging technology-supported learning to improve equitable access in education. All children can now aspire to follow a career path that transcends their limitations and looks beyond the potential socio economic restraints.

How do Bridge Schools help support local communities?
Bridge Community Schools empower teachers through an intensive induction training program before they enter the classroom. They also receive continuous support, coaching and professional development that results in a better teaching environment and a more positive and engaging learning environment. This education system helps build confidence in both the teacher and the pupil, contributing to the overall wellbeing for the individual and community.
Bridge prides itself on being an inclusive organisation that focuses on equity and gender equality; providing equal opportunities for all and in particular supporting young women to break away from the social possibilities of; teenage pregnancy or marriage and gives them the opportunity to receive a good quality education much like their male classmates. 

Educating young women not only benefits the individual but also benefits the communities in which they live. Evidence has shown that by adding one additional year of education to a young girl's life, this can help to improve their wages later on in life by as much as 25%, creating better opportunities for both them and their families. 
The support for gender equality in schools helps elevate pupil performance levels in exams, for example in Uganda this support is enabling girls to surpass male peers and reverse national trends, creating more role models within the community and the classroom.

This week we saw the celebration of the fourth International Day of Education, in which the theme focuses on 'Changing Course, Transforming Education'. Bridge wants to remind it's community of their dedication to bettering education for all children worldwide, transforming education systems to achieve dreams and shape futures.