Bridge Kenya KCPE 2021 – Seven Consecutive Years Of Success
Kenya's end of primary school exams – the Kenya Certificate of Primary Education (KCPE)  play an enormous part in determining the onward journey in a child's education.  Success in the KCPE can give pupils a competitive edge for admission to great secondary schools.
Since first entering the KCPE in 2015, Bridge Kenya pupils have done exceptionally well, outperforming the national average every time. This year has continued that unbroken run of success.  
In March 2022 Bridge International Academies Kenya pupils sat the Kenya Certificate of Primary Education (KCPE) examination for a seventh year. 
These were the KCPE 2021 exams, delayed from November 2021 because of the impact of the Covid pandemic. 1,975 girls and boys sat the exams.
There is no 'pass mark' in the KCPE. However, the score determines the type of secondary school a child is eligible to attend. The mean total score for pupils across all schools in Kenya is 250.
Bridge Kenya pupils scored an average of 18 points higher than pupils nationally. For the seventh year in succession, Bridge Kenya pupils outperformed the national average.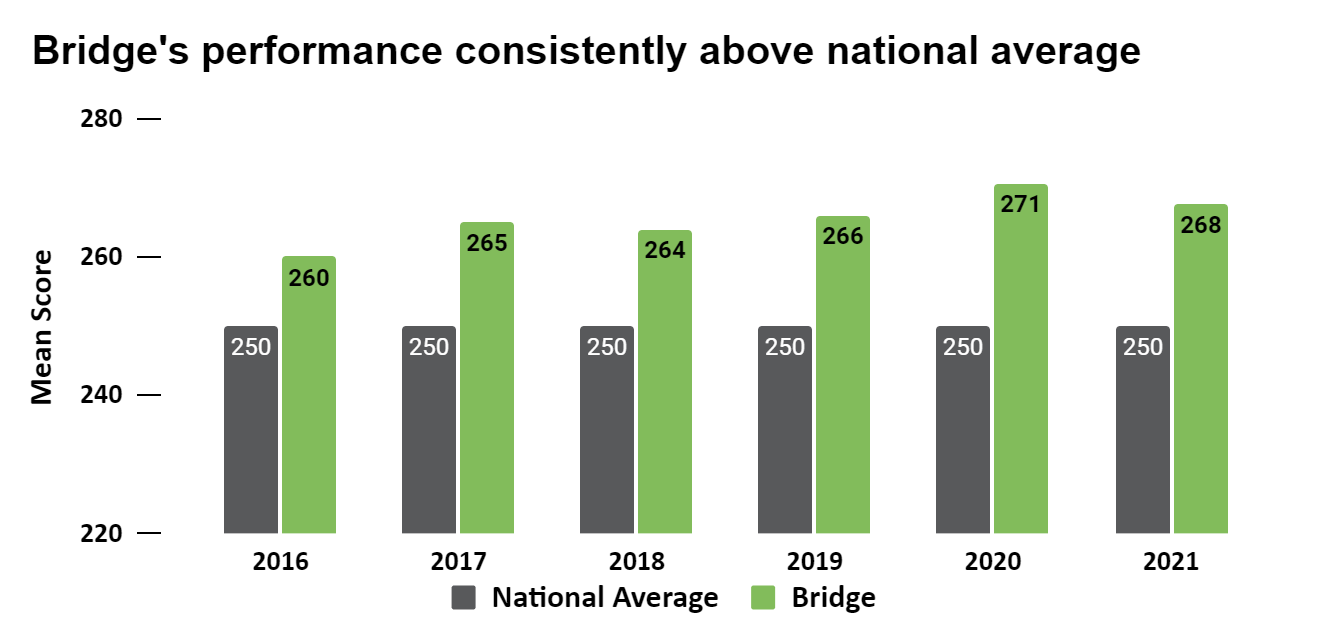 At least three Bridge pupils achieved 400 marks or more, putting them in the top 0.98% of pupils nationally.
Joyce Kemunto, Florence Kwamboka and Edwine Oduory scored 401, 401, and 402 respectively. Joyce and Florence are both from Bridge Kwa Njenga, Nairobi county the first ever Bridge school to be launched, while Edwine Oduory is from Bridge Majengo Mapya in Mombasa County.
Joyce, who is 15-years-old, has been a pupil at the school for eight years.  
"The teachers at my school were very supportive. They are very professional, friendly, and approachable. They care about their pupils and provide holistic education," overjoyed Joyce said after results were released. Joyce lives with both her parents in Mukuru slums and her father who works as a casual labourer is their main sole provider because her mother is currently unemployed.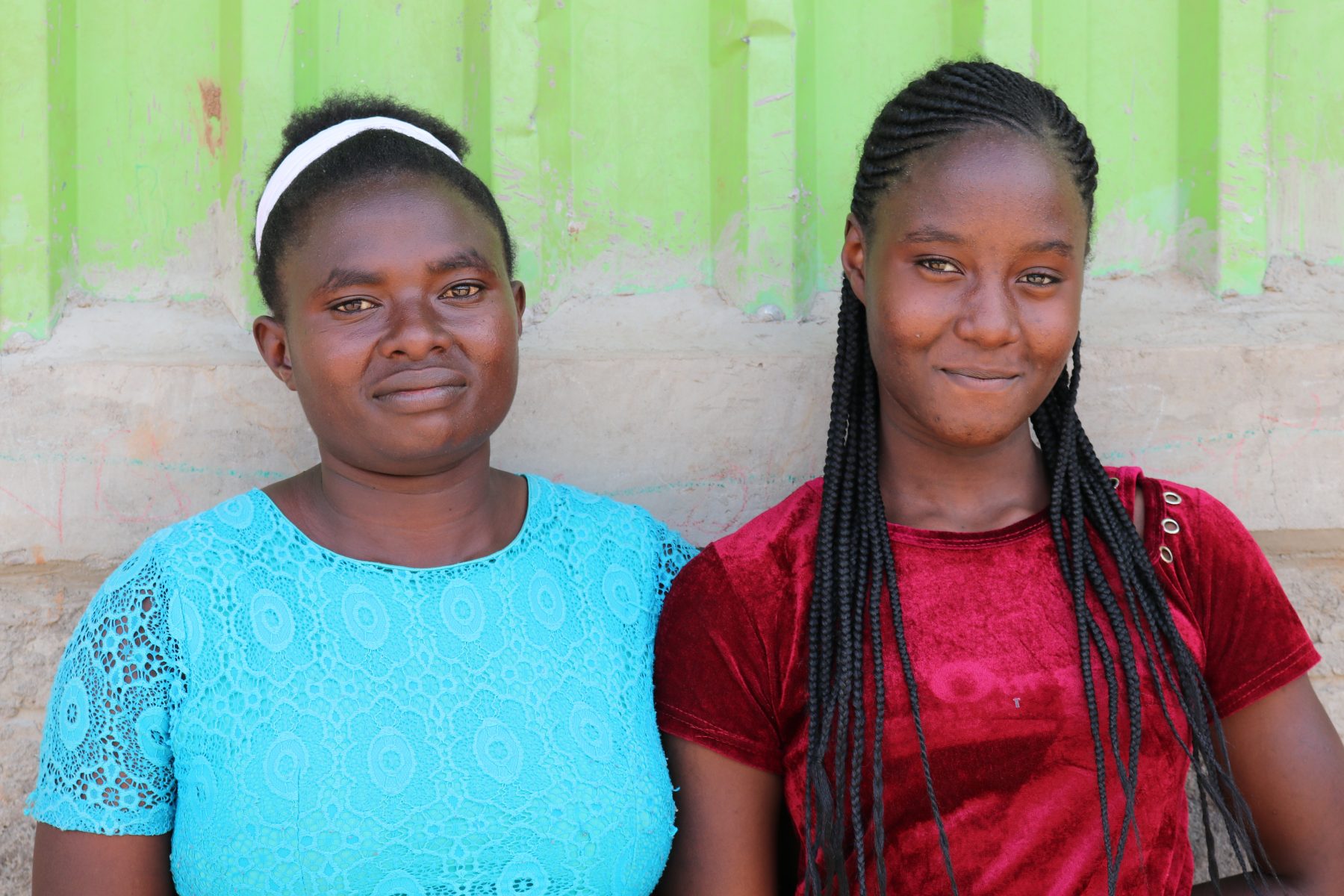 Her mother, Martha Moraa could not hide her excitement and gratitude towards Bridge after seeing her daughter's results. "Bridge is a good school that has the best teachers. I enrolled my daughter in Bridge right from baby class and I can attest to it that it is indeed a school that is keen on seeing pupils succeed. Thank you Bridge for all your efforts." She said. 
Edwine, 15, has been studying at Bridge Kwa Njenga for seven years. His parents live in Kakamega county at his home village where the father works as a casual labourer while the mother is unemployed. "I want to be a medical scientist because there are a lot of viruses breaking out these days that don't have a cure and would love to be part of the research team and discover different medicines," he said. Edwine is excited to have met the_ KCPE marks for National schools selection as he has always wanted to join Alliance Boys High School, He thanked Bridge Academies for offering him an opportunity to shape his future.
Florence, who has studied at Bridge Kwa Njenga for eight years, aspires to be an architect. Florence, 15, said the teachers at the school were very helpful throughout her academic journey.
"I joined Bridge as a very young girl with big dreams, and Bridge has been the school that has shaped the path to my dreams. I could not believe it when I saw the results, scoring 401 marks was a dream come true. Bridge has really changed my life," said a happy Florence.
Overall, 34% of Bridge Kenya pupils who sat the KCPE scored more than 300 marks, which gives a competitive edge in admissions to great secondary schools. Nationally just under 27% of pupils achieved such high scores.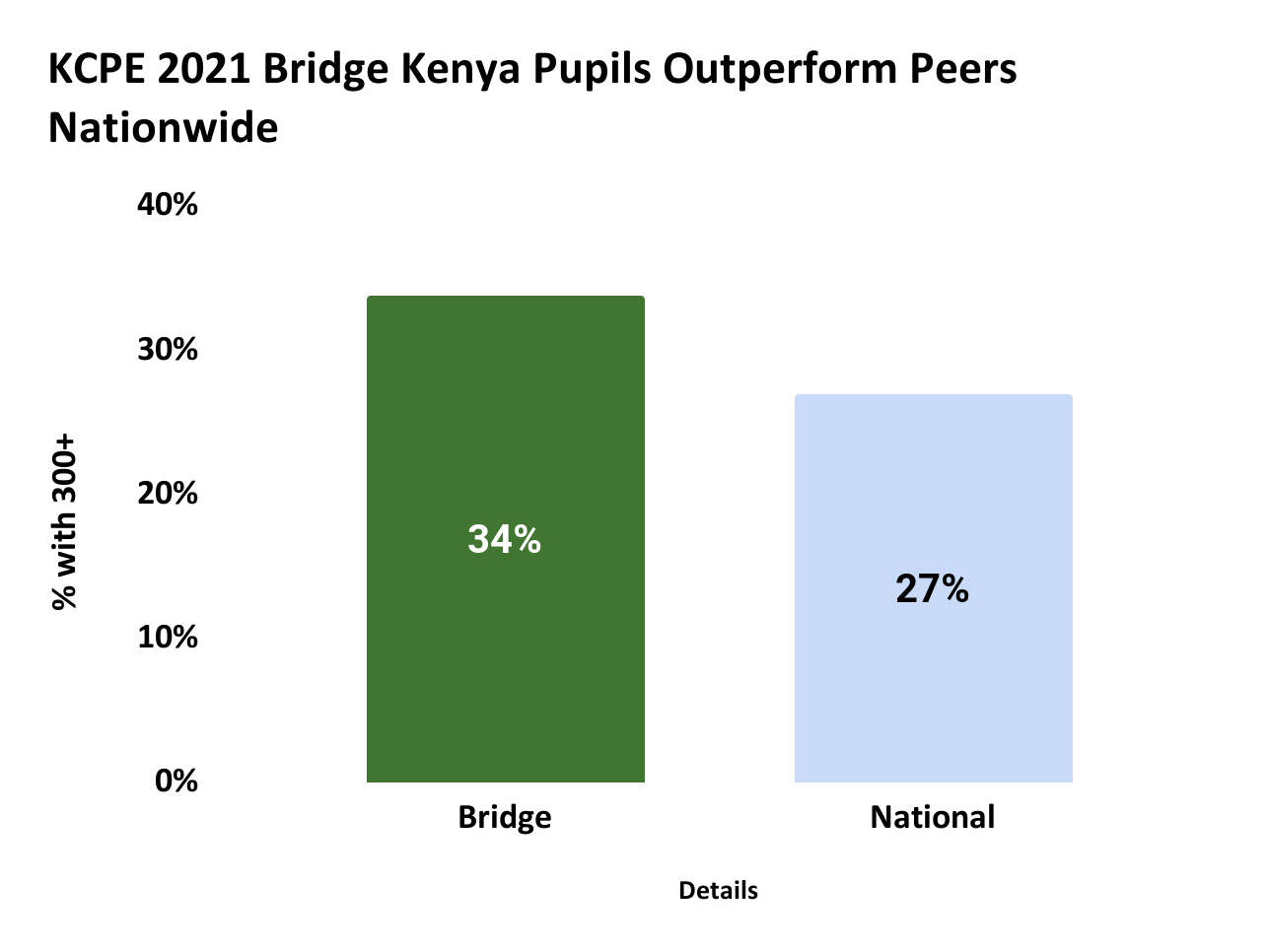 61.5% of Bridge Kenya pupils scored 250 marks or better, compared to a national average of roughly 50%, which includes elite public schools.
Bridge girls also continue to go from strength to strength. Since 2015, the number of girls attending Bridge Kenya schools who score at least 250 marks has increased by more than 30%.
In KCPE 2021 results,  girls attending Bridge Kenya schools for five or more years averaged 289.9 marks, nearly 40 marks above the national average.
Boys attending Bridge Kenya schools for five or more years averaged 291.1 marks, more than 41 marks above the national average. 
Seven years of KCPE entrance, seven years outperforming the national average. The success of Bridge Kenya, supporting underserved communities across the country, is truly remarkable.